{{UserPage
a collaborative encyclopedia about Nickelodeon's popular children's TV series Corn and Peg, which began on March 4, 2019. Join us and learn more about the friend duo Corn and Peg and the community of Galloping Grove. People are free to contribute to this wiki by adding or editing pages and by adding images, videos and files relating to Corn and Peg. We are going to be one of the most reliable sources for Corn and Peg information on the internet!
Meet the characters!
Meet and learn about the besties and their horse friends! Click on a character below to go to their page.
News
Next episodes
Did you know?
614 edits have been made since the Corn & Peg Wiki was founded on March 9, 2019.
Steedish Polls
What character do you indentify with?
Wiki activity
To see the recent activity on the wiki, click here.
Community corner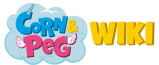 Welcome to Community Corner on the Corn & Peg Wiki!
There are currently 1 admin:
Feel free to contact him if you need anything! Have a happy time editing!
Community content is available under
CC-BY-SA
unless otherwise noted.